Resources for Becoming an ISA Certified Arborist®
Resources for Becoming an ISA Certified Arborist®
Thinking about taking the exam to become an ISA Certified Arborist®? Check out these two resources to help you prepare:
Arborists' Certification Study Guide, 4th Edition – Newly Released!
By Sharon J. Lilly, Corinne G. Bassett, James Komen, and Lindsey Purcell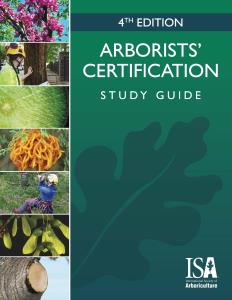 Available in print or electronically, the fully-illustrated 4th edition is a must-have book for ISA Certified Arborist® candidates and provides a strong foundation and reference for all tree care professionals. This edition has been updated to reflect best practices and is a great place to start preparing for the exam. Find out more on the ISA Website.
Certified Arborist Exam Preparation Course
August 30-September 29, 2022 | Tuesdays and Thursdays 6:00-9:00 p.m.
Online with a live instructor!
The New England Chapter ISA is offering a Certified Arborist Exam Preparation Course.
This is a VIRTUAL course with a LIVE instructor. The course is 8-three hour classes held on Tuesdays and Thursdays starting August 30th and continuing on the following dates: Sept 1, 6, 8, 20, 22, 27, and 29. $500 member, $535 non-member. 28 CEUs.
No class the week of September 12.
The course fee includes copies of the Arborist Certification Study Guide and the ANSI Z133 Safety Standards (a $147 value) shipped to each participant.
Find out more on the New England Chapter ISA Workshops webpage.